BRIAN HAMM
Head Coach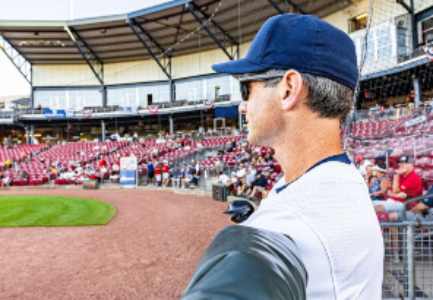 Brian Hamm enters his first year as head coach of the Yale baseball team in 2022-23. Prior to joining the Bulldogs Hamm led Eastern Connecticut State to the 2022 NCAA Division III National Championship, capping a season in which the Warriors went 49-3. He earned the Skip Bertman Award as National Coach of the Year from the College Baseball Foundation for his work. He also was named D3baseball.com National Coach of the Year and ABCA/ATEC National Coach of the Year for the Division III level.
Hamm spent four seasons at Eastern Connecticut, leading the Warriors to the NCAA Tournament in 2021 and 2022. Under his leadership, ECSU went 108-30 (.783) overall and 38-10 (.792) in Little East Conference play. The Warriors were LEC Regular Season Champions in each of the past two seasons, going 15-1 each year and establishing the LEC record for regular season conference wins. They won the LEC Tournament this past year, going 4-0 and outscoring their opponents 35-8. Hamm earned the LEC Coach of the Year Award and the D3baseball.com New England Region Coach of the Year Award for the second year in a row.
The national championship was Eastern's first in 20 years. Hamm's Warriors broke the school record for wins with 49 (tied for the second-most ever by a DIII National Champion) and tied the school record with a 23 game winning streak to end the year. They were ranked No. 1 in the nation from May 10 through the end of the season. For the second straight year, Hamm's team had three players recognized with All-America honors.
In addition to their success on the field, Hamm's teams have also excelled in the classroom. In 2021 ECSU earned the ABCA and LEC team academic awards for the second straight year. ECSU also had a CoSIDA Academic All-America selection -- the third of Hamm's coaching career.
Hamm was also active in the campus community at ECSU. That included serving on the Diversity & Inclusion Committee for the Division of Student Affairs since 2018 and working on ECSU's "Get Out the Vote" Campaign in the fall of 2020.
Before coming to Eastern, Hamm coached at Amherst for 13 years. He spent the first four assisting ABCA Hall of Fame coach Bill Thurston. In nine years as head coach, Hamm oversaw the winningest period in Amherst baseball's 162 year history, posting a 221-113 (.662) record. He led the program to four NCAA Division III Tournaments and two NESCAC Tournament Championships. His .725 winning percentage in NESCAC regular-season play is the highest in conference history. He was named NESCAC Coach of the Year in 2011 and 2018.
During his tenure at Amherst, Hamm produced more MLB draftees (four) than any other Division III head coach. His teams also placed more players on the NESCAC All-Academic Team than any other NESCAC baseball team.
Hamm has helped those who work and play for him to go on to highly successful careers. Two of his former coaches have earned collegiate head coaching jobs and three have gone on to work with Major League Baseball teams. A dozen of his former players work in front offices of MLB organizations, and his first two captains at Amherst currently hold significant roles: John D'Angelo is a Vice President at Major League Baseball and Will Lawton is Director of Baseball Operations and Pro Scouting for the Pittsburgh Pirates.
While at Amherst Hamm started the baseball analytics team, and a half-dozen members of that team have gone on to work for MLB teams. That includes two trailblazing female executives, Sarah Gelles (Director of Research and Development, Astros) and Jasmine Horan (Research and Development Analyst, Cubs).
Hamm is a 2002 graduate of Middlebury College, where he was a two-sport captain (baseball and soccer). He spent three years as an assistant coach at his alma mater. He also served as an Envoy Coach for Major League Baseball International for three years, working with amateur and professional teams in Europe. In 2009, MLB honored Hamm with the Julio Puente Envoy Coach Award as the coach who most epitomizes excellence in coaching and player development in international baseball. He is the youngest coach to have received this award.
Hamm holds a master's degree in sport management from the University of Massachusetts Isenberg School of Management. He is a native of Terryville, Conn.
---
CHRIS WOJICK
Pitching Coach & Recruiting Coordinator
Chris Wojick was named Pitching Coach & Recruiting Coordinator by head coach Brian Hamm in July of 2022, after a four year stint as the Associate Head Coach at Eastern Connecticut State University.
Under Wojick in 2021, the staff led the Little East Conference in shutouts, strikeouts and lowest opposing batting average and was second in earned-run average. Individually, Josh Vincent led the conference in ERA, and Vincent and Bill Oldham ranked 2-3 in strikeouts and were two of the top ten in lowest opposing batting average. In Wojick's first season in 2019, the staff was ranked first in the conference in strikeout-to-walk ratio, second in earned-run average and strikeouts per game, tied for second in least home runs allowed and third in least earned runs allowed and least walks allowed. The year before he arrived, in 2018, Eastern pitching ranked in the middle of the pack in the conference in ERA and opposing batting average.
At Wesleyan, the Uncasville native helped the Cardinals to consecutive 30-win seasons (only the second and third 30-win campaigns in program history) that resulted in NCAA regional tournament berths in 2014 and 2015 under head coach Mark Woodworth. Wesleyan won a total of six games in those two NCAA regionals, four coming when they reached the championship round of the Moosic, PA regional in 2014. His pitching staffs at Wesleyan compiled three of the top four team ERA marks in program history, including a record 2.70 in 2015 which was also number one in the country.
During Wojick's tenure at Wesleyan, five players went on to sign professional baseball contracts.
Wojick holds a B.S. Degree in Business Administration.
---
COREY KEANE
Assistant Coach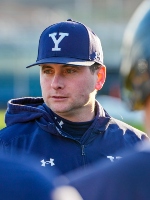 Corey Keane joined the Yale baseball staff as an assistant coach for the 2022 season.
Keane spent the previous five seasons at Quinnipiac, helping the Bobcats to a memorable run in 2019. They won the MAAC regular season and tournament championships, advancing to the NCAA Regionals. Their final win of the season came at No. 10 Eastern Carolina in the NCAA Regionals. That was their 30th victory, a Quinnipiac record.
Keane helped coach 12 All-MAAC selections for the Bobcats, including three outfielders – the group he worked with primarily.
Keane played collegiately at Eastern Connecticut State University. As a student-athlete he helped the Warriors win the Little East Conference Championship in 2014 and was named first team all-conference in 2015. He played five different positions and played for three different head coaches, helping the program to more than 100 wins in his career.
Keane was the head coach of the West Hartford Thunder of the Connecticut Collegiate Baseball League in 2017. His career in coaching began with a stint as an assistant coach for the Tolland (Conn.) American Legion team from 2013 to 2016. He has also worked as an instructor at the Jim Wawruck Baseball Camp and the Bill Holowaty Baseball Camp, as well as providing private hitting and fielding lessons.
Keane graduated from Eastern Connecticut State University in 2016 with a B.A. in sport performance.
---